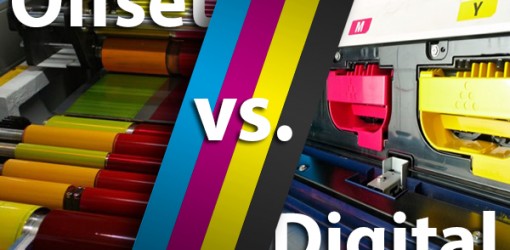 Technological advancements in printing industry opened a wide row of possibilities. Nevertheless, greater amount of options sometimes translates into higher level of confusion. Customers simply don't know which type of printing will suit their needs best and why. Both offset and digital printing are marvelous technologies, providing a multitude of great options and features each. However in order to help those of us, who are uncertain about the method they should choose – we will discuss advantages and shortcomings of each of these methods.
What is Offset Printing?
Offset printing implies transferring images from aluminum plates to a sheet of rubber and then transferring this image to a sheet of paper. In other words, offset printing means that ink is not transferred onto the paper directly.
What is Digital Printing?
As opposed to the offset printing, where plates are used to transfer images, digital printing uses toners or larger printers that use liquid ink. Digital printing is usually used for small to medium orders, where each image must either be name differently or modified in compliance with certain criteria.
Advantages of Offset Printing
The first and main advantage of offset printing is high quality of the printed images.
Apart from that, offset printing allows working with a wide range of surfaces, such as paper, metal, plastic, wood, leather and cloth.
Offset printing is ideal for large orders, because the more you need to print the less you will pay for each unit.
Recently there have appeared computer-to-plate systems of offset printing that allow further improvement of image quality.
Offset Printing Cons
Turnaround time is much longer in offset printing.
Cost is considerably higher, unless you're planning on ordering large quantity of printed products.
Requires more workers – offset printing requires at least two operators and the set up procedure is quite time-consuming.
Advantages of Digital Printing
Setting up digital printer is very easy, which is why turnaround time is amazingly quick.
Apart from that, digital printing guarantees that all copies with have the same saturation of colors, which offset printing cannot guarantee.
It is ideal for small or medium printing, because cost is very affordable for small printing runs.
Digitally printed materials are highly customizable, which comes in handy when you're printing for example wedding invitations and need them to be the same except for the name. In such case replacing a name on each invitation will be a breathe with digital printer.
Digital Printing Cons
Digital printing does not allow very large sheets to be printed; it has limitations that are not characteristic of offset printers.
Lower quality remains one of the main shortcomings of digital printing. No matter how high is the resolution of the original, large images of it, digitally printed will still have pixelated outlook.
Conclusion:
If you are in a hurry and have a small order – by all means you should choose digital printing, however in case you are interested in high quality, have enough time to wait and need a great amount of copies – offset printing will be the right choice.